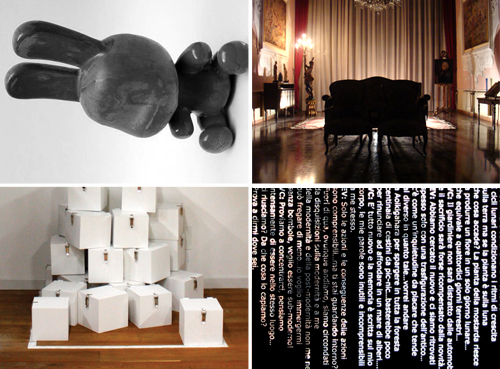 A) nome /
name
:
Riccardo:
Blauer Hase
(collective)
B) nazionalità / where are you from?:
Mario: italo-tedesca /
Italy-Germany
C) età / how old are you?: Daniele: Blauer Hase ha quasi tre anni. / BH is almost three years old.
D) area d'azione / your sphere of interests: D: ecco, Blauer Hase non ne ha una in particolare. E questo permette una totale libertà di muoversi / D: Blauer Hase is not interested in something in particular and this enables to feel free.
E) studi / studies:

D: Ci siamo incontrati all'interno dello IUAV di Venezia, studiando Arti Visive. Inizialmente suonavamo anche

assieme, ci chiamavamo Blue Rabbit. Poi, continuando gli studi che si sono in parte separati, abbiamo

desiderato questa nuova forma e questo nuovo modo di lavoro insieme. / D: We met at IUAV of Venice, both studying visual arts. At the very beginning we were also playing music together, we were "The Blue Rabbit". Then during the university we started to desire to be part of a new form of working team.
F) qualcos'altro dal tuo curriculum / could you please tell us a little bit about what do you do/have you done?: D: Credo che le prime esperienze espositive che Blauer Hase ha avuto, siano state quelle per un certo senso definitive: "Hic sunt leones" e "Furniture Music" hanno avuto un ruolo fondamentale per la crescita del collettivo. Due situazioni opposte: la prima richiedeva degli interventi che si potessero camuffare con l'intero arredamento del palazzo di Cà Corniani degli Algarotti o dialogare con la stessa storia del palazzo, mentre la seconda situazione era l'inverso. L'appartamento che avevamo a disposizione era completamente spoglio, tranne che per le tracce di polvere dell'arredamento dei precedenti proprietari. Però anche "Rodeo", il progetto che ci ha permesso di lavorare all'interno degli atelier della Fondazione Bevilacqua La Masa di Venezia per un anno, ritengo sia stato un punto molto interessante della nostra ricerca. Iniziare a riflettere sul meccanismo delle regole e dei limiti proponendo ad altri artisti/curatori/autori delle situazione espositive per poi concludere con il ricevere delle regole da tutti i partecipanti al progetto Rodeo: la conclusione infatti è stata molto interessante, nell'esposizione finale che ha avuto luogo a Viafarini (Milano), Blauer Hase si ritrovava così, in un'impossibilità di agire per la presenza di meta‐regole. È stato un momento per pensare a ciò che si può fare, a ciò che non si può fare e a ciò che si può fare non. È complicato, sì.. / D: the first experiences can be considered the most valuable ones: "Hic sunt leones" and "Furniture Music" have had a special role in the growth of our collective. These were two opposite cases: the first one was about the development of works that could disguise with the interior forniture of "Cà Corniani degli Algarotti", whereas the second situation was just the reverse. That building was completely unfurnished except for the dust left from the previous owners. Also "Rodeo" has been an important project for our research and allowed us to work within Bevilacqua la Masa's ateliers. Reflecting about rules and boundaries, about there presence or absence has been exciting and brought some intersting results to the final exposition in Viafarini (Milano).
G) 3 maestri /
3 masters
:
R: Lars Von Trier ; D: Andrea Morbio, Bas Jan Ader
H) 1 città d'ispirazione / 1 inspiring city: R: Londra / London
I) dove il prossimo viaggio? / a place you'd love to visit soon: M: Abbiamo nominato più volte l'Islanda / M: we have talked many times about Iceland...
J) 1 museo speciale /
1 special museum:
R: The Sherlock Holmes Museum, London.
K) 1 link da consigliare / 1 recommended web-site:

M: www.raqsmediacollective.net
L) gusto di gelato favorito / favorite ice cream flavour:

D: Puffo.. esiste ancora? / D: 'Smurf', does it still exist? (> an indefinite childish blue flavour, inspired by 'the
Smurfs')
M) un negozio che approvi / a shop you love: R: la gelateria "da pistacchi" di Venezia (qual è il nome preciso? igloo?) D: concordo con Riccardo, la gelateria Alaska!!!! M: gelateria igloo D: no, si chiama Alaska.. / R: The ice-cream parlor "da pistacchi" in Venezia (which is the exact name? igloo?) D: I Agree with Riccardo, the ice-cream shop "Alaska"!!!! M: ice-cream shop "igloo" D: no, its name is "Alaska".
N) 2 oggetti che ti piacciono / 2 objects you like: D: ultimamente lo yo‐yo e la mia Holga / D: yo-yo and my Holga
O) la tua colazione ideale / your ideal breakfast:

M: CASU! (?)
P) un bel posto nelle tue vicinanze / somewhere nice to go in your neighbourhood: R: La chiesa dei Frari?; D: Postman's Park (Londra) anche se dalle vicinanze non propriamente geografiche / R: The church of Frari in Venice?; D: Postman's Park (London) even if not in the geographical proximity.
Q) cosa stai leggendo ultimamente? / last books you have read:

R: Elias Canetti, "Il gioco degli occhi". voi?; D: Anouck Boisrobert, Louis Rigaud "Popville" e soprattutto Mark Z. Danielewski "House of Leaves"; M: "Infinite Jest" di David Foster Wallace / R: Elias Canetti, "Il gioco degli occhi". You?; D: Anouck Boisrobert, Louis Rigaud "Popville" and moreover Mark Z. Danielewski "House of Leaves"; M: "Infinite Jest" of David Foster Wallace.
R) cosa ti ispira attualmente? /
what are a few things inspiring you at the moment?:
D: F'GET THE STUDIO...! (our last project).
S
) qual'è la principale difficoltà per un 'giovane creativo' oggi? / which is the main difficulty for a young creative today?: M: il tempo libero / M: the spare time.
T) dimensione collettiva nell'arte e nella creatività: sì, no, come? /
what do you think about the collective dimension of art and creativity?
:
D: lascio rispondere Mario; M: si cercando di creare una identità collettiva che parte singoli percorsi di ricerca ma ha una sua indipendenza. Anche se è difficile. /
D: I let Mario reply; M: Many different approaches are trying to merge in a general collective identity which can still be indipendent. Even if it's difficult.
U) cosa stai cercando? / what are you looking for?: D: se lo sapessimo già probabilmente avremo smesso di cercarlo e quindi non lavoreremo più assieme. Il discorso del Latento è un buon punto, vero Rik?; R: Ci ha colpito molto un concetto di cui ci ha parlato il Raqs Media Collective, che contrapponeva alla forma del "manifesto" quella del "latento"; M: io mi son dovuto ricredere sull'esigenza di un manifesto; è bello scoprire quello che si può fare senza delinearsi / D: if we knew it, we probably have already stopped to look for it. The Latento is a good topic, right Rik?; R: The concept which Raqs Media Collective was talking about really impressed us, it was all about the contrapposition of "manifesto" and "latento". M: I really changed my mind about the need of a "manifesto". Is good to find out what we can do without being clearly defined.
V) di che cosa non vedi l'ora? /
what are you looking forward?:
R: del nuovo album dei Verdena?; D: di conoscere il vero Spongebob Squarepants! / R: Verdena's new album?; D: to meet the real Spongebob Squarepants!
W) progetti per il futuro (esagera!) /
projects for the future (exaggerate!):
D: progettare una "unwelcome" installazione all'interno della Turbine Hall della Tate Modern (Londra) come Doris Salcedo (Shibboleth); M: Una mostra al PS1 di New York dove costruiamo una stazione radio che trasmette radiodrammi in diretta con la partecipazione del pubblico /
D: to project an "unwelcome" intallation for the Tate Modern's Turbine Hall, like Doris Salcedo (Shibboleth) did. M: one exposition at New York's PS1 where we can set up a radio station which broadcasts radio's live dramas with the audience interactivity.
X) cosa ti piacerebbe studiare da vecchio? / what do you like to study when you'll be old?:

D: so cosa vorrei studiare ora e forse domani, non mi spingo troppo più in là.. ; M: la geografia / D: I don't know what to study even now or tomorrow, I don't protract myself too much; M: geography.
Y) un buon proposito per la stagione 2009-10 / a good purpose for the 2009-10 season: D: lavorare lavorare lavorare lavorare e continuare a lavorare / D: working working working working and keep on working.
Z) la parola "fludd" cosa ti fa venire in mente? / what the word "fludd" suggests you?: D: a me viene in mente quel film con Robin Williams, scienziato pazzo ma a fin di bene, che inventa quella sostanza verde che rimbalza qua e là; M: Fluoro / D: it makes me pop up in my mind that movie with Robbie Williams, weird scientist with good purposes, who invents that bouncing green substance. M: Fluor.
- - - - - - - - - - - - - - - - - - - - - -
- - - - - - - - - - - - - - - - - - - - -
Images /
a: "Hic sunt leones", Palazzo Cà Corniani degli Algarotti – Venezia, a cura di Blauer Hase, Dicembre 2007: particolare di "senza titolo", Riccardo Giacconi.
b: Rodeo / "Conversazioni dal Quarto Paesaggio", Atelier7, Palazzo Carminati - Venezia, di Vittorio Cavallini e Enrico Vezzi, Aprile 2009.
c: Rodeo / "Un-limited", Atelier7, Palazzo Carminati - Venezia, a cura di Michela Lupieri, Nataša Vasiljević, Marzo 2009.
-
d: "Furniture Music", Installazione ambientale in abitazione privata: Fondamenta Priuli dei Cavalletti, Cannaregio 96/F – Venezia, a cura di Blauer Hase, Maggio 2009.
e: Rodeo / "Post Vertigo Virginis", Atelier7, Palazzo Carminati - Venezia, a cura di Andrea Morbio, Carlotta Tringali, Ottobre 2009.
-
f: Rodeo / "Portrait of a City (After Sergeant Pepper)", Atelier7, Palazzo Carminati - Venezia, a cura di Åbäke, Giugno 2009.