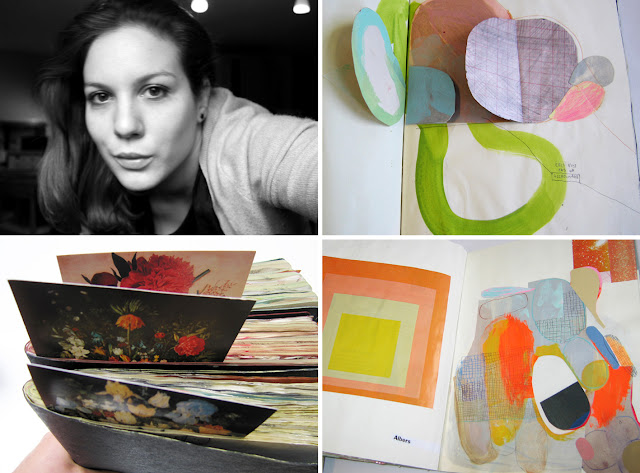 A) nome /
name
:
Sara Maragotto
B) nazionalità /
where are you from?
:
Abano Terme - Padova / Italy
C) età /
how old are you?
:
23 (7th October 1986)
D) area d'azione /
your sphere of interests
:
disegno, illustrazione, pittura, collage, grafica /
drawing, illustration, painting, collage, graphic.
E) studi /
studies
:
Liceo Artistico a Padova + alcuni corsi alla scuola estiva di illustrazione di Sarmede (Tv) + Accademia di Belle Arti di Venezia + Erasmus all'ERG (école de recherche graphique) di Bruxelles + biennio specialistico sempre in Accademia /
Arts High School in Padua + some courses at the summer school of illustration of Sarmede (Tv) + Academy of Fine Arts in Venice + Erasmus in Bruxelles (ERG) + Academy in Venice (specialization).
F) qualcos'altro dal tuo curriculum /
could you please tell us a little bit about what do you do/have you done?
:
ho iniziato facendo biglietti di matrimonio personalizzati, pratico babysitting. Adoro leggere e tagliare riviste /
I started making customized wedding cards and babysitting. I love read and cut magazines.
G) 3 maestri /
3 masters
:
Bruno Munari, Italo Calvino, chi si prende la briga di insegnarti a guardare (inestimabile!) /
Bruno Munari, Italo Calvino, who teaches to see, to observe seriously (priceless!).
H) 1 città d'ispirazione /
1 inspiring city
:
Gent/Gand in Belgio e Venezia, ovviamente /
Gent in Belgium and Venice, of course.
I) dove il prossimo viaggio? /
a place you'd love to visit soon
:
Bruxelles, forse. ma sogno da tempo la Svezia... /
maybe Bruxelles, but I dream Sweden from a good while...
J) 1 museo speciale /
1 special museum
:
musée du Quai Branly (Parigi) e la maggior parte di quelli olandesi! /
Quai Branly Museum in Paris and most of dutch museums!
K) 1 link da consigliare /
1 recommended web-site
:
But Does It Float
L) gusto di gelato favorito /
favourite ice cream flavour
:
liquirizia /
liquorice
M) un negozio che approvi /
a shop you love
:
C.O.S. ! e anche Schleiper a Bruxelles, Hema, Muji /
C.O.S. and also Schleiper in Bruxelles, Hema, Muji.
N) 2 oggetti che ti piacciono /
2 objects you like
:
tanti! ...forbici, MacBook. E roba tipo: bolle di sapone, crystalball, stickers, cartoleria sofisticata /
a lot of ! ...scissors, MacBook. And stuff like soap-bubbles, 'CrystalBall', sophisticated stationery.
O) la tua colazione ideale / your ideal breakfast :
caffèlatte e qualcosa di cioccolatoso /
milk&coffee and something with chocolate.
P) un bel posto nelle tue vicinanze /
somewhere nice to go in your neighbourhood
:
le isole della Laguna! /
islands of venetian lagoon.
Q) cosa stai leggendo ultimamente? /
last books you have read
:
tanti contemporaneamente. ora cose su Bacon e Rothko. Poi Fred Vargas, Italo Calvino, Dino Buzzati. Nuovo: Lettere a un giovane poeta di R. M. Rilke. /
many at the same time. now: things about Bacon and Rothko. and Fred Vargas, Italo Calvino
,
Dino Buzzati. New: Letters to a Young Poet by R.M. Rilke.
R) cosa ti ispira attualmente? /
what are a few things inspiring you at the moment?
:
cristalli e minerali, schemi e diagrammi, nature morte fiamminghe, materiali e superfici ... (i materiali sono propulsivi!) /
crystals and minerals, schemes and diagrams, flemish still-lifes, materials and surfaces ... (materials are propellings!)
S) qual'è la principale difficoltà per un 'giovane creativo' oggi? /
which is the main difficulty for a young creative today?
:
trovare veri maestri. E conoscere sé stessi. Anche l'Italia non aiuta. /
to find real masters, knowing oneself. also Italy doesn't help a lot.
T) dimensione collettiva nell'arte e nella creatività: si, no, come? /
what do you think about the collective dimension of art and creativity?
:
per forza. In parallelo (osmotico) a ricerca e percorsi personali /
necessarily. In osmotic parallel with personal search and paths
.
U) cosa stai cercando? /
what are you looking for?
:
di costruirmi (una struttura leggera, per fare e andare 'dappertutto') nuovi entusiasmi. appartenenze /
building my self-structure (light, for going everywhere). new enthusiasms and belongings
.
V) di che cosa non vedi l'ora? /
what are you looking forward?
:
di progetti coinvolgenti, di diventare brava. D'avere un posto ideale per lavorare /
interesting projects, becoming good in my work. A perfect atelier for working.
W) progetti per il futuro (esagera!) /
projects for the future (exaggerate!)
:
concretizzarmi. illustrare, lavorare, stare in una rete stimolante /
concretizing, illustrating, working in an inspiring network.
X) cosa ti piacerebbe studiare da vecchio? /
what do you like to study when you'll be old?
:
l'ebraico, l'acquerello, forse (e altre cose che richiedono pazienza). e spero mi piacerà l'arte contemporanea di allora /
Hebraic, watercolour, maybe (and other matters requiring patience)
.
and I hope I'll like the contemporary art of those times.
Y) un buon proposito per la stagione 2009-10 /
a good purpose for the 2009-10 season
:
cose decenti e soddisfacenti in Accademia, approfondimenti e ampliamenti. Progetti solidi. Progredire con l'inglese /
interesting and satisfying things at school, widenings. Substantial projects. Better English.
Z) la parola "fludd" cosa ti fa venire in mente? /
what does the word "fludd" suggests you?
:
una sostanza magica rimbalzina tipo Flubber, i miei recenti studi anatomici (Robert Fludd), i miei soci (C, C, M, V). /
a magic bouncy substance like Flubber, my recent anatomical studies (mr. Robert Fludd), my Fludd-partners.
+) perché lo Studio Fludd? / why do you are in Studio Fludd?
: ci rafforziamo l'un l'altro, ci compensiamo e ci divertiamo anche /
together we are stronger, for growing, and also for fun.

- - -
Citazioni importanti
/
Significant quotations:
"Solo dopo aver conosciuto la superficie delle cose ci si può spingere a cercare quel che c'è sotto. Ma la superficie delle cose è inesauribile." (Italo Calvino in
Palomar
)
"Può sembrare strano non sapere dove si stia andando, l'essere persi, l'essere perdenti, ma rivela invece fede e ottimismo più grandi, invece di sicurezza e senso collettivo." (Gerhard Richter)
" L'arte è un gioco fra tutte le genti di tutte le ere." (Marcel Duchamp)
"La nostra 'Età dell'ansia' è in gran parte frutto del tentativo di svolgere il lavoro di oggi con gli strumenti e i concetti di ieri." (Marshall McLuhan)
"La realtà non è mai come la si vede: la verità è soprattutto immaginazione." (René Magritte)
- - -
Links:
my
Flickr
- my
e-mail
- - -